The Homemade Bread Challenge is rolling right along and I have to say that the third and most recent item is definitely the easiest I have made and also without a doubt my favorite so far. When I first saw
this pin from Cooking for Seven
I was skeptical. I didn't really believe that great bread could be so easy. I mean they sell bread in stores for a reason right? Wrong.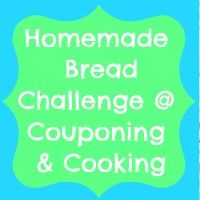 Basically all it takes to make amazing bread is so stir four ingredients together in a bowl (one of which is water), let is rise and then bake it in an oven with a pan of water. Sounds too good to be true? I promise you it isn't. When Justin tasted this bread he looked at me and said, "Why would anyone ever buy bread again?" And I have no answer to that question.
I always believed that in order for bread to be good you must spend an unreasonable amount of time kneading it (or letting your stand mixer dough hook do it for you). Wrong again. I have never made bread this good despite all the time I have
wasted
spent making sure I kneaded it for exactly the number of seconds required by the recipe. Never again I tell you! : )
We ate this bread hot out of the oven with
Butternut Squash Tomato Basil Bisque
and it was delicious. We couldn't get over what an amazing crust it had and how light and airy the inside of the bread was. It was like really good bakery bread except the bakery was our house. And man did it smell ridiculous.
Best part? It made two loaves so I froze one and cannot wait to have it as a no hassle treat once school starts and my motivation to make things from scratch drops to negative one million.
Simple No Knead Bread
adapted from
Cooking for Seven
3 cups warm water
One packet of active dry yeast (about 1 1/2 tablespoons)
1 1/2 tablespoons coarse salt
6 cups of bread flour (maybe more depending on your humidity)
1.) Pour the yeast and salt into the warm water in a large bowl and gently mix.
2.) Slowly stir in the flour with a wooden spoon. If dough is still very sticky, add more flour until dough has formed up a little bit.
Mine looked like this.
3.) Cover with a clean cloth and let dough rise. I left mine and went to church so it probably sat for close to three hours all said and done.
4.) Dough will have risen and flattened out on top. Punch dough down and form into loaves in a lightly greased and floured pan. You could make any shape you like or use any pan you like or you could skip the pan all together and just form it on a baking tray. Whatever you prefer.
5.) Lightly flour the top of your loaf and cut a few slits in the top of the unbaked loaf.
6.) In order to get the crust on the bread, you will need to preheat the oven to 450 degrees and put a metal pan or broiler tray in the over while it is preheating.
7.) When you put the loaf in the oven, pour a cup of hot water in the pan and then shut the door and let the steam do its job. I baked mine for about 30 minutes or until the top looked nice and brown and crispy.
8.) Try to let it sit for awhile before slicing. We only made it about 20 minutes but it was all we could mangage.
Enjoy!
I invite you to join me in making the items on my list or to make any kind of homemade bread you want. If you post your results on your blog feel free to link them up below or copy the Blog Hop code and put it on your post as well. The more the merrier!
If you are planning on doing the challenge with me and using the blog hop code on your blog too let me know and I will include your name/link/button on the posts that you will be joining in on/co-hosting in a way. Just leave a comment or shoot me an email to couponingncooking@gmail.com You can also grab the new "Homemade Bread Challenge" blog button from my sidebar now too : )

August 11th:
Old Fashion Pull Apart Buns
August 25th:
Cheesecake Factory Bread
September 8th: Homemade Croissants! (still figuring out what recipe I want to use for these)
I have started a
Pinterest board
for inspiration and will be pinning my result posts and what other people link up to it as we go. Hope you will join me and good luck!
Made any type of bread lately? Like up your posts and pictures here! The linky will be open and used on all future HMBC posts through September 13th!