For the second part of the Homemade Bread Challenge, I decided to attempt to make pita bread. I love pita bread but for whatever reason we never buy it. We also love making sandwiches for lunch but I hate buying a whole loaf of fresh bread (we don't particularly care for prepackaged bread) because it always goes stale before two people can eat it.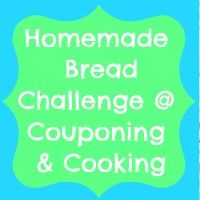 Pita bread seemed like the perfect way for us to be able to have bread for lunch inexpensively and while knowing what went into it. I picked
this recipe from Under the High Chair
mainly because it was labeled "quick and easy" on Pinterest. And it really was quick and easy. And delicious.
Justin and I found plenty of uses for this bread. We stuffed them with turkey and cheese and veggies for lunch. We toasted them and dipped them in olive oil and bread seasonings as a side to dinner. I think Justin even spread one with peanut butter and ate it as an appetizer to his breakfast one morning : )
I was really scared about making pita bread. It seemed so complicated. How do you get a pocket to form? How long to you bake it to make sure that it is done but not too crunchy? What if I end up with flat crunchy disks? Lucky for me, these problems all took care of themselves with no help from me. I didn't get any really great pictures but since the bread turned out so well I don't even really mind.
I adapted the recipe to incorporate whole wheat flour and I was personally very happy with how it turned out. I probably wouldn't go with all whole wheat though because it seems like it would be way too grainy and not bake up as it is suppose to if you left out all of the regular flour. The recipe made eight not so regular sized (user error) pitas and we found that it was best fresh but can also be stored in the freezer and used as needed.
Whole Wheat Homemade Pita Bread
adapted from
Under the High Chair
1 tablespoon yeast

1 ¼ cup warm water

1 teaspoon salt

2 ½ cups whole wheat flour

1 cup of all purpose flour
1.) Dissolve yeast in the warm water in bowl of a stand mixer for about 5 minutes. Add the salt and the whole wheat flour and slowly mix with the dough hook.
2.) Add the regular flour and knead for about 5-8 minutes or until smooth ball of dough has formed. Use more flour if your dough is too sticky.
3.) Dump dough out onto a floured surface and evenly split into 8 pieces. I used a pizza cutter to make mine : )
4.) Form dough into balls and then roll out to about 1/4 inch thick circles. Let them rest for about 30 minutes.
5.) Flip the rounds of dough upside down (resting on the opposite side that they were) onto a baking sheet and bake at 425 degrees for about 10 minutes until lightly golden and fully puffed.
6.) Remove from the oven and let them cool for a bit before you try and cut into them. Stuff, dip, spread and enjoy!
Here is the schedule for the rest of the Challenge. I decided to move the posting day to Saturday since that seems to be the day that I am actually able to get around to posting it! I invite you to join me in making the items on my list or to make any kind of homemade bread you want. If you post your results on your blog feel free to link them up below or copy the Blog Hop code and put it on your post as well. The more the merrier!
If you are planning on doing the challenge with me and using the blog hop code on your blog too let me know and I will include your name/link/button on the posts that you will be joining in on/co-hosting in a way. Just leave a comment or shoot me an email to couponingncooking@gmail.com You can also grab the new "Homemade Bread Challenge" blog button from my sidebar now too : )

July 28th:
Simple No Knead Bread
August 11th:
Old Fashion Pull Apart Buns
August 25th:
Cheesecake Factory Bread
September 8th: Homemade Croissants! (still figuring out what recipe I want to use for these)
I have started a
Pinterest board
for inspiration and will be pinning my result posts and what other people link up to it as we go. Hope you will join me and good luck!
Made any type of bread lately? Like up your posts and pictures here! The linky will be open and used on all future HMBC posts through September 13th!