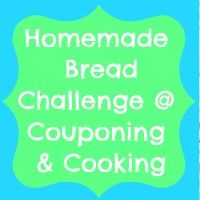 So here it finally is! The first installment of the Homemade Bread Challenge. I know it has been a long time coming and there is no excuse for it being this late but here is what sort of happened.
Early last week I was going to make my first recipe and get the post all lined up for Wednesday the 27th but for some reason I thought that I had posted that I would have it up the next week. I didn't even think about the fact that the next Wednesday would be the 4th of July.
Then last week I realized what I had done and was all set to bake my Whole Wheat French Baguettes but then as you might have read in my weekly totals post, life got crazy. So here it is and I will stick to the originally posted schedule from here on out. (See below for details)
This week's challenge was Whole Wheat French Baguettes and I would call it a success. I didn't exactly follow the recipe I had planned to instead I combined a few different ideas to fit with the time, tools and techniques I had and am capable of.
I could not believe how easy it was. Fool proof really. The bread was hearty but still light and the crust was so crunchy and good. My favorite part (other than the taste) was that it made enough dough for four good sized loafs. We made two of them and then I shaped the remaining dough into loaf shapes and froze them raw so we could bake them up anytime we want. Nothing better than having fresh bread ready and waiting for you.
This bread was best hot out of the oven and it is good topped with pretty much anything; butter, jam, ricotta cheese, olive oil and seasoning. But the best way is the way we had it for breakfast today (don't judge) we cut it into thin slices and topped it with a smear of goat cheese and thinly sliced Granny Smith Apples. Pop it in the toaster over for a few minutes and viola! pure perfection.
I felt so European eating my freshly baked bread with warm cheese and apples : ) Make sure to scroll down for the full recipe post and to join in the Homemade Bread Challenge Blog Hop!
Whole Wheat Baguettes
makes 4 medium sized loaves
3 cups of very warm water
1 packet or 1 1/2 tablespoons yeast
1 1/2 tablespoons salt (I used kosher)
2 1/2 cups whole wheat flour
4 cups all purpose flour
1.) Combine the water, yeast and salt in the bowl of your stand mixer. You do not need to let it proof.
2.) Add in both flours. Using the dough hook attachment slowly combine and knead the mixture until it forms a loose dough. I should be pulling away from the sides and roughly forming a ball.
3.) Remove the bowl from the stand mixer and cover tightly with a towel. Let the dough rise in a cool place for 2-5 hours. You can then take it out and start forming loaves or you can place it in an airtight container and leave in the refrigerator overnight. (I did that)
4.) When you are ready to form the loaves, divide the dough up into four even portions. Roll each portion out to resemble a baguette loaf. Let them rise for 20 minutes. You can freeze any loaves you do not wish to bake right away in this form.
5.) After the 20 minutes is up, take the loaves you plan on baking and brush them lightly with water. Use a serrated knife to cut a few diagonal slashes in the tops.
6.) While the dough is rising, you should preheat the oven to 450 degrees. Place a baking tray or bread stone on the top rack while you are preheating it and place a baking tray or broiler pan on the bottom tray too. When the oven is preheated, place the bread on the stone or tray and then pour a cup of hot water onto the bottom tray. Shut the oven door and bake for 15-20 minutes or until crust is golden brown. Enjoy!
Here is the schedule for the rest of the Challenge. I invite you to join me in making the items on my list or to make any kind of homemade bread you want. If you post your results on your blog feel free to link them up below or copy the Blog Hop code and put it on your post as well. The more the merrier!
If you are planning on doing the challenge with me and using the blog hop code on your blog too let me know and I will include your name/link/button on the posts that you will be joining in on/co-hosting in a way. Just leave a comment or shoot me an email to couponingncooking@gmail.com You can also grab the new "Homemade Bread Challenge" blog button from my sidebar now too : )

July 11th:
Homemade Pitas
July 25th:
Simple No Knead Bread
August 8th:
Old Fashion Pull Apart Buns
August 22nd:
Cheesecake Factory Bread
September 5th: Homemade Croissants! (still figuring out what recipe I want to use for these)
I have started a
Pinterest board
for inspiration and will be pinning my result posts and what other people link up to it as we go. Hope you will join me and good luck!
Made any type of bread lately? Like up your posts and pictures here! The linky will be open and used on all future HMBC posts through September 13th!